My Steampunk-meets-Wild-West novella is now an audiobook, and I have a limited amount of free promo codes to offer to fans!  (Also, if you're a first-time user to Audible, please check out the first time user's link. Not sure if this works in tandem with the free code, but give it a try.)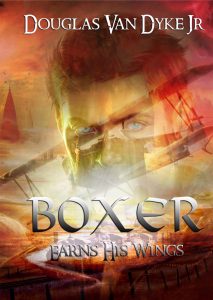 Want a free promo code?
If you subscribed to my mailing list, (right side-bar), you've received instructions on how to obtain free promo codes for this book. If not, you may have to wait and see if more become available.
What is this book?
Though I normally write fantasy, this book takes place in an alternate Earth setting. It's a Steampunk Wild-West flavor mixed with the old 1930s adventure serials that inspired Indiana Jones.
Teaser:
"Everyone calls me 'Boxer,' as if I was the only one."
Brian "Boxer" DuWold is feeling outdated in a booming industrial age of electricity, magnetism, and stiff competition between steam and fossil fuel engines. The tough conman makes a living off gamblers, using prize-fighting rings or shooting matches. Few realize his livelihood supports his blind sister; unfortunately, the suits of the United Republic Agency use this leverage to their advantage.
The United Republic has seen a lot of technological advances since defeating the southern rebels in its Civil War years ago. Now, the territory of Texico has won its independence from Meztica, and is considering joining the UR. One hitch: the mad scientist who helped win the revolution for Texico is pursuing his own agenda, which includes a train full of chemical explosives steaming straight for the capital! The doctor is rumored to have zombie soldiers, steam war machines, and high-tech weapons at his disposal.
Boxer barely has time to grab his brass knuckles and six-shooter before URA men send him on a mission that one team has already failed. He's loaded into the most advanced biplane of his time and tasked to stop the train. It's time to buckle in for a wild ride of an adventure.
New to Audible? If you are a first time visitor to Audible, I have a different set of links for you to follow. I get a special bounty if you sign up for Audible through my book:
US link: https://www.audible.com/pd/B08…
UK link: https://www.audible.co.uk/pd/B…
Reviews please?
Please consider leaving me a review when done. At this early stage of a release, reviews are critical to an author's sales and success.
A Thank you to my narrator/producer!
Voice narration and production done by Steve Ferrari. Voice actor, narrator, producer. You can contact me if you would like his info for your audio projects!