Book 1 of 3 in The Earthrin Stones Series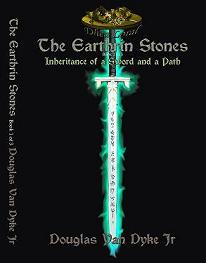 Book Teaser:
Over a thousand years ago the Godswars ravaged the land of Dhea Loral, shattering continents, laying waste to cities, and driving species to extinction. The people of the land are once again starting to prosper and flourish, while the gods stay aloft and watch from afar the recovery. Yet, not all the old quarrels have been forgotten. For some gods, the time is right to once again meddle in the affairs of mortals. Though the gods have bound themselves by a Covenant that bars their direct entry into Dhea Loral, they are able to send mortal emissaries to carry out their schemes.
A night of violence erupts in a small village on the fringes of civilization. A woman is kidnapped, though only to cover up the real crime. Trestan, the son of a blacksmith, finds his hero dead and unwillingly accepts the magical elvish blade that was bequeathed to him. He sets out with his lifelong friend to see justice done for the blood that was spilled that night. They are joined by an uncommon group of adventurers to share in their quest, whom often get involved in their own squabbles. The further the road leads from home, the more their enemies seem to multiply. Even as they hope to attempt a desperate rescue, they must discover the true crime that was set in motion by ambitious gods.
Even honorable Trestan will find himself caught up in the plots of immortals. The youth must find the faith to save his friends, and yet even by doing so he may have to submit to another's will. Not only has he inherited a sword…he has inherited a path that will take him from the only home he has ever known.
Video Trailer
For purchase…
My Online Store (Bundle deals with my other books, and can contact me to personalize it for whoever!)
Amazon.com (Kindle Version linked as well)
Note that new, printed purchases through Amazon's site entitle you to a free Kindle copy as well. Details on their site.
Upper Midwest:
Chapter 2 Books , Hudson, WI
Source Comics & Games , Roseville, MN
Twinflower Books , MN
Mythic Emporium , Minot, ND
Want more? You can read the  Prologue and first two chapters of "Inheritance of a Sword and a Path" here:  Inheritance Preview
Reader Comments:
"Inheritance of a Sword and a Path is a treasure trove of fantasy, eye-popping adventures, lead characters imbued with morality, humility, strength and humor. Besides the sword play and wizardry, what struck me as remarkable was the page space given to accomplished, highly effective women on equal footing in terms of contribution to the story and to their society as men. This saga opener had me turning pages, reading way (way) past my bedtime, and definitely curious for the next installment. Pure fun!"  — Lori Crever, host. "30 Minutes with the Author"
"This book was great. I was deeply surprised at the depth of character found in the villains, especially Savannah" "…As for Mel, his character brings the humour in dark situations, and this was greatly appreciated…If I was to say anything, however, the most interesting person was Katressa. Not because of what she is, but because of how she grows as a character throughout the book." Erica finished her comments in this way, "I am earnestly awaiting the sequels, and I hope they arrive soon. I'll be standing on my toes until they do."– Erica P.
"I am truly enjoying your book. You have a gift for drawing the reader into the story, letting us see everything the characters are seeing. The details in the story let you see textures of the armor, smell the aromas drifting from the inns or campfires. The battle scenes are incredibly detailed and exciting, giving the reader a sense of actually watching as the scene unfolds before them. And of course, your humor is woven into the fabric of the story at the most opportune times!…When is the next one going to be ready?" — S.C.
"…May very well have been one of the best…books I ever had the pleasure to read…the book that you have written is truly a masterful piece of art. I know that you have the skill to be an extremely successful writer as you have most certainly proved that you are capable of penning with the best…One thing that I absolutely loved about your book was the character development. You didn't give everything about a character up at first glance, and even if it seemed that you had, you would surprise me a couple chapters later with a subtle revelation as to the moral composition of the characters…The internal struggle that Trestan had throughout the book lent him a noble character and made him more human, and not just some moral robot doing what was right…Above all else, your book was amazing." — Nathan H.