Current Game projects – See my personal Youtube channel , or Twitch channel , or go to this page right here on my website for current updates.
Swords Drawn, Guns Loaded – Previous episodes on a playlist at "GrievanceGaming" Youtube channel: SDGL Playlist Link
The Star Citizen Report – Previous episodes on a playlist at "GrievanceGaming" Youtube channel: Star CitizenReport
Current projects
As much as I love games, I've decided to utilize my Youtube and Twitch accounts for game streams and videos. I may sometimes post videos regarding my books or possibly a vlog, but there just isn't a real effective or prolific use of video channels in regards to written work. Therefore, I will be using those channels for video games: live streams, pre-recorded adventures, and memorable scenes.
I've already enjoyed a long run hosting televised games during my "Swords Drawn, Guns Loaded" broadcasts for Grievance. After watching the works of other YouTube gamers, I decided to do my own thing on my own time. Some games are more enjoyable as live streams, others serve better as reaction/solo recorded adventures. I judge each and decide. LIKES and SHARES are always appreciated! Maybe I'll even get a few donations. (Though its very rare to see a YouTuber rake in decent amounts).
Star Citizen Report
In the Fall of 2013, I was asked by members of my guild, Grievance, to host an every-other-week show revolving around a big game I've been looking forward to: Star Citizen. It had gone on to be the most popular YouTube show they have. A number of shows have attracted a few thousand views. Needless to say, I'm a big fan of this game. It also helps that they have been very open and sharing with their fanbase. The show ended in 2016, after more than 60 episodes, (some of those eaten by Twitch before transferred to Youtube). I continue to look forward to the full release of the game.
Swords Drawn, Guns Loaded
For Grievance and GTGN.tv, I hosted another show, this one focused on video game streaming. Their most popular livecast was "Don't Sleep, Won't Sleep", hosted by Ehgi. She streamed suspense/mystery games with surprising or scary elements. On top of playing games that can make her jump and scream, money donated by viewers caused a screaming zombie to pop up on the screen. In planning mine, I chose to use action games. "Swords Drawn, Guns Loaded" played every other Saturday night, opposite Saturdays from "Don't Sleep, Won't Sleep" and "The Star Citizen Report". Action/adventure-oriented games were my focus. I told fans they could always relax following the Saturday evening raids, and tune in to watch someone else risk death for their pleasure. The show ran 50 episodes, and gave me a treasure trove of good times.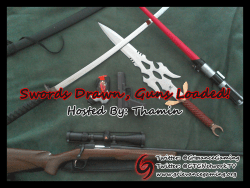 I started with the 2013 Tomb Raider reboot, and have played games such as H1Z1's Alpha, World of Tanks, and Grand Theft Auto 5. Other games included Star Citizen, Witcher 3, Arkham City, Mad Max, and The Division. Occasionally I played inside MMORPGs showcasing some of Grievance's family, but only if I could do dungeon runs or PvP…anything that would keep the action going.
Additional links:
For individual links to "Swords Drawn, Guns Loaded", see the dedicated page here.