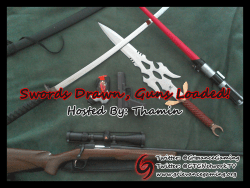 "Swords Drawn, Guns Loaded" is a action/adventure genre Twitchstream that I began for GTGN.tv in Spring of 2015. I'll link the individual episodes 11-20 below and update them. I broadcast on http://www.twitch.tv/grievance every other Saturday night, 10pm-midnight CST. Be sure to follow to get updates on when I'm broadcasting.
Episode #21  Fallout 4 (1-16-2016)
2nd try out in the wasteland of Fallout 4. We start off with a quest in the game in which the Minutemen wish to retake Fort Independence from some huge, killed crabs…and their queen! Mini-nuke anyone? Next we crawl through an underground tunnel, braving glowing undead and facing an entrenched raider.  Eventually the game ends in a big, running firefight against super mutants and several additional monsters that decide to join the action.
Episode #22  Diablo 3 (1-30-2016)
Shiv, Epicfell, and Relictus joined me for a night of fun action in Diablo 3. We went in with a theme: Our characters were named after Harry Potter characters. We went hardcore, (death is final), and kept increasing the difficulty throughout the night so that someone would eventually die. We finally hit the climactic part at 1:19:30 when a Rift Guardian spawns and entertains the audience for the next 5 minutes.
Episode #23  Diablo 3 (2-27-2016)
Zoe and Lycoris join me, taking on dungeons and Elites areas in Star Wars: The Old Republic
Episode #24  Black Desert Online PvP (3-26-2016)
In Black Desert Online, we have two guilds running together due to a guild level cap. On this night, we decided to have a Civil War, Grievance vs Dark_Grievance. I was relatively lower level, but managed to get in a few nice kills. Near the end, the general on the other side picked up my character and bodyslammed her!
Episode #25  The Flame in the Flood 3 (4-9-2016)
Tempting the rapids in this rogue-like, kickstarter-backed game. More survival than killing, and a bit of running for my life.
Episode #26  The Witcher 3 (4-23-2016)
Rescuing two sorceresses, (didn't sleep with either…very unlike Geralt!) Also herded a sheep toward a dragon!
Episode #27 Rise of the Tomb Raider (5-7-2016)
Despite some early lag, which mostly smoothed out, I had a great time tempting death! this time, we could post it to YouTube no problem. Lara Croft tangles with extremists in an old tomb, then tries to survive deep snow, cold, and bears fighting them in the mountains. The fight with the huge bear was intense!
Episode #28 Rise of the Tomb Raider (5-21-2016)
This time Lara did not make it through a full episode without dying. In fact, my death near the end was probably one of my dumbest deaths in the history of the show. (Placed next to mashing the wrong buttons on the first show playing the first Tomb Raider.) Lara escapes from a prison, and several fights ensue.
Episode #29 Fallout 4 (6-04-16)
This return to Fallout 4 features a nice jaunt into the Glowing Sea. An amazing 4 Deathclaw battles occurred.
Episode #30 Rise of the Tomb Raider (7-02-16)
In this third jaunt into this game, I had several notable scenes. Combat with machine-gun wielding bad guys, a surprise panther attack, a bear fight that I ran out of ammo. The episode culminated in a death-defying climb up a shaky tower….actually I didn't defy death that well.
Return to Episodes 1-10
Return to Episodes 11-20