Boxer Earns His Wings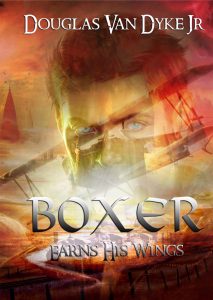 BOOK TEASER:
"Everyone calls me 'Boxer,' as if I was the only one."
Brian "Boxer" DuWold is feeling outdated in a booming industrial age of electricity, magnetism, and stiff competition between steam and fossil fuel engines. The tough conman makes a living off gamblers, using prize-fighting rings or shooting matches. Few realize his livelihood supports his blind sister; unfortunately, the suits of the United Republic Agency use this leverage to their advantage.
The United Republic has seen a lot of technological advances since defeating the southern rebels in its Civil War years ago. Now, the territory of Texico has won its independence from Meztica, and is considering joining the UR. One hitch: the mad scientist who helped win the revolution for Texico is pursuing his own agenda, which includes a train full of chemical explosives steaming straight for the capital! The doctor is rumored to have zombie soldiers, steam war machines, and high-tech weapons at his disposal.
Boxer barely has time to grab his brass knuckles and six-shooter before URA men send him on a mission that one team has already failed. He's loaded into the most advanced biplane of his time and tasked to stop the train. It's time to buckle in for a wild ride of an adventure.
EXPANDED INFO:
The Boxer series features non-chronological adventures in an alternate Earth history. It's a Steampunk Wild-West flavor mixed with the old 1930s adventure serials that inspired Indiana Jones.
This short novella, (@19,000 words, 86 pages), started as a submission for a short-story compilation book. I wrote this piece many years ago. The compilation never happened, so I got my story back and I'm releasing it stand-alone. I do have other ideas for the series, but they won't be chronological or continuous. Each will be one-shot adventures.
FOR PURCHASE:
My Online Store (Bundle deals with my other books, and can contact me to personalize it for whoever!)
Note that new, printed purchases through Amazon's site entitle you to a free Kindle copy as well. Details on their site.
Audiobook narrated by Steve Ferrari – Voice Actor, Narrator, Producer – mediamusicproductionz(at)gmail.com
Upper Midwest:
Chapter 2 Books , Hudson, WI
Source Comics & Games , Roseville, MN
Twinflower Books , MN
Mythic Emporium , Minot, ND
Reviews:
Christopher Schmitz, (Goodreads):
Boxer Earns his Wings, by Douglas Van Dyke Jr. has a certain flair to it. It opens by putting you smack dab in the middle of action and Van Dyke does a great job of continuing the level of excitement throughout the book. It was an easy read and not overly long which is nice, but also promises more in another fun realm Van Dyke writes in.
His other books are fantasy and have a very Forgotten Realms kind of feel to them, this one is more steam-punk, and his characters and settings feel very much like Han Solo in a western/steam kind of world. Boxer felt very much like the first two books of A.C Crispin's Han Solo trilogy, which I absolutely loved (and was one of the few books I eagerly awaited new installments of, checking for new releases each time I visited the stores—before we could follow authors on the internet.)
If you've got a taste for steam and adventure, pick up Boxer Earns his Wings! I received a free copy for review at my blog, Inside the Inkwell.