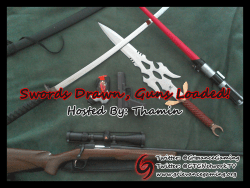 "Swords Drawn, Guns Loaded" is a action/adventure genre Twitchstream that I began for GTGN.tv in Spring of 2015. I'll link the individual episodes 31-40 below and update them. I broadcast on http://www.twitch.tv/grievance every other Saturday night, 10pm-midnight CST. Be sure to follow to get updates on when I'm broadcasting.
Episode #31  Limbo (7-16-2016)
I knew this game had the potential of a really high death count. It proved me correct. 44 deaths! I have a very short life expectancy in this spooky game which turns death into an art form.
Episode #32 Batman: Arkham City (7-30-16)
Loved playing the Caped Crusader, the Dark Knight…the..umm…Bat Guy. Fought through several tough fights against thugs and gunmen. Featuring Joker, Penguin, Poison Ivy, Catwoman, Harley Quinn and Riddler.
Episode #33 No Man's Sky (8-13-16)
Opening weekend of No Man's Sky, I had to see what I could do alone against the galaxy. Biggest battle actually happened as I was starting to sign off, and picked a fight with a reinforced door. The door brought waves of friends!
Episode #34 Batman: Arkham City (8-27-16)
Most of this adventure focused on Penguin's museum, in an attempt to liberate Dr Freeze. But we started with Catwoman displaying some alternate fun that comes with the game. Catwoman takes on several fight challenges. Once we get to Batman, I endure a few failed attempts past a deadly shark and a heavily-guarded room, only to face Solomon Grundy at the finale!
https://www.twitch.tv/grievance/v/86114938 (Twitch link, hasn't been uploaded to YouTube yet)
Episode #35 Doom (2016) (9-10-16)
Had to enjoy the latest Doom game! Used to play the original back when the graphics were comparable to Minecraft. The game has really upped the ante! Started with a little multiplayer shoot-up prior to hitting the main campaign. Took pistol sniping to a new level, and the live audience loved when I found the chainsaw!
https://www.twitch.tv/grievance/v/88724542 (Twitch link, not uploaded to YouTube yet)
Episode #36 Doom (2016) (9-24-16)
A return to the blood and gore of Doom! Lots of great action in a hot foundry! Several scares and spooks! Plus, out of my three deaths, two were self-inflicted 😛
https://www.twitch.tv/grievance/v/91250252 (Twitchcast linked, hasn't been uploaded to YouTube yet.)
Episode #37 Rise of the Tomb Raider (10-08-16)
Fighting heats up as Lara tries to stay a step ahead of Trinity's attacks. Lots of blown stealth attempts by yours truly, including smashing a lit molotov cocktail over a guy's head…whoops! but by the end, both the drama and the anticipation really go into overload.
Episode #38 Rise of the Tomb Raider (11-05-16)
Grievance's third annual Xtra Life charity stream! Once again, I got to close the 24-hour gaming marathon for Children's Miracle Networks. We had the pleasure of meeting our goal just a few minutes into the broadcast! In this episode, Lara has grabbed the Atlas but has to flee the Deathless Ones and Trinity at the same time! Jonah makes a reappearance as well, and Lara has to go to the rescue.
Episode #39 Rise of the Tomb Raider (12-3-16)
Didn't plan to do RotTR again, but Doom crashed my screen repeatedly. In this one, Lara goes through a very complex-looking Orrery and enters the forbidden city Kitezh. Thus begins my fight and flight versus a legion of Deathless troops! Fire the trebuches and jump those rooftops!
Episode #40 Elder Scrolls 5:Skyrim (12-17-16)
Time to get lost in another Bethesda sandbox game! Insert a fresh character and raise the combat difficulty! A couple hilarious deaths in this one as Urgosk the berserker tries to make a name for himself in the world. Plus, my high level character takes on a giant camp.
Episodes 1-10 here
Episodes 11-20 here.
Episodes 21-30 here
Next episodes here