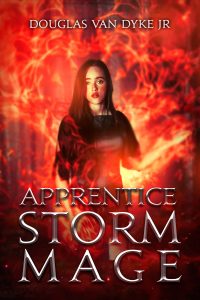 Teaser Text:
Fire and Ashes! The city is burning!
Young mage's apprentice Thomena is gifted in the elements of wind and water, but she yearns to learn the secrets of fire. When she discovers another mage is the one starting fires around her city of Orlaun, her resolve is tested by tragedy and roaring infernos. She needs to win the trust of the toughest heroes around, the fire-fighting vigiles, but they are hard to impress. Can she save Orlaun before the fires consume all Thomena cares about?
Pick up this coming-of-age adventure which opens up a new chapter in the fantasy realm of Dhea Loral.
Back cover text:
Thirteen-year-old Thomena is proving to be a talented storm-mage, though she doesn't like the title. Her mastery of wind and water elements allow her to pursue hobbies like foot-tall snowflakes and snowball fights in the oppressive summer heat. Yet, she yearns to study the element of fire at an age younger than guild rules allow.
Her master decides to test her responsibility alongside the tough, vigile fire-fighters of Orlaun. Thomena is tasked to protect these heroes from a safe distance, though they are an intimidating crowd for a young girl to impress.
But no one planned for her to get as close to the fire as events force. No one expected her to be a nearby witness as tragedy strikes. No one thought she would discover evidence that another mage is starting the fires.
Can a coming-of-age girl find the resolve and magical talent to seek justice when facing pressure from every direction to quit?
Book 1 of the Storm-Mage Chronicles opens up a new chapter in the fantasy world of Dhea Loral.
For purchase…
Amazon.com (Coming soon)
Audible (Coming soon)
* Considering joining Audible? If you're a first-timer wanting to try this book for free, use this URL here! You get it for free and I get a bonus.
Twin Cities metro area:
About the Cover Artist:
Noah Elowyn's work can be found at his Twitter, Instagram, and at The Book Cover Designer website.
Instagram: https://www.instagram.com/noahelowyn/
Twitter: https://twitter.com/noahelowyn