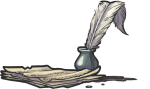 Did I just trouble anyone by declaring the end of Summer? I'm sorry. However, the boys are going back to school. I will miss them dearly, but it also means I have more time to write! (When not dodging honey-do lists.) During the Summer, we have way too much time being a family for me to keep up with my writing.
Book Projects
This summer, I got a couple big accomplishments done. "The Widow Brigade" audiobook version was launched, narrated by Darla Middlebrook. It sold quite a few copies, and the reviews have been generally good. Much as I love good old paper books, a lot of folks these days appreciate an audio version for their commute. It was amazing to hear a "voice" for my characters for the first time. I could hear Duli's sobs and feel her tears when she lost her husband near the start of the book. (NOT a spoiler…it is a 'widow' brigade, after all.)
"The Wooden Maiden" finished, and became my "free-story" to hand out on my card at conventions and signings. This one is a short read, and more fairy-tale than much of my writing. Those of you who caught my email and posts had a chance to read and comment on a test version before the final one came out. My new business card has a QR code on it that allows anyone to download a digital version. They get a choice whether to download it to Kindle, Kobo, Nook, Apple, and more. The Smashwords version will even allow you to just download a PDF. You can also get it from this website…
I'm writing a marathon today of "Apprentice Storm Mage". This "My Father, The Warrior" prequel was originally going to be my free story. I quickly realized that the story would likely run as long as Boxer's novella, which is 19k words. That's when I switched gears and worked on "The Wooden Maiden" instead. Someone astute might point out, "Hey, 'My Father, The Warrior' isn't even out yet, how can you already be working on the prequel?"  This is a reflection of how priorities can sometimes shift for an author. I have a lot of fans looking for fantasy stories for young readers, but especially young girls. "Apprentice Storm Mage" focuses on Thomena when she is still a young, 13-year-old girl learning magic. I think it will have a lot of draw for young girls who want their own fantasy hero, and I'd already gotten a good head start on it. I'm 10,000 words into the first draft and by all expectations I am at the halfway point. This novella is one of my big focuses for now. I hope to have it available to young readers soon.
For the reasons stated above, work on the 2nd "Pilgrims with Blades" has also slowed, but remains a top priority. After all, the group doesn't officially get their name until the second book.
You Tube and Twitch Presence
Regretfully, I have changed the links on this site to reflect that I am no longer really active on YouTube or Twitch anymore. I have not been able to catch up to changes in today's streaming and recording. I'm still an avid gamer, but I've had a lot of setbacks in sharing those moments with an audience.
Upcoming events
The next event on my schedule, Sept 7-8, is the Minn Renaissance Festival. As you'll notice, it is still "Unconfirmed". Many themed weekend sellers don't know whether they are accepted until a few days before the weekend. So, I won't know if I'm really appearing here until the last minute.
Chapter 2 Books in Hudson, Wisc is hosting me for a couple hours on Sept 21st. Be there at 2-4pm! I'd love a big crowd to support me and this local bookstore. Downtown Hudson offers a lot of adjacent shopping and dining experiences as well!   Chap2 Books
Sept 28-29 will be my last outdoor event of the year. RSG Craft fair is at Washington County Fairgrounds. I'm one of only a few authors that go. If you like craft and flea markets, there is plenty of other goodies to find there too.
That's all folks!