This last weekend I was at MSP SpringCon at the Minn State Fair Grandstand. After my fun time at that event, and the large efforts put forth by the organizers, it occurred to me some great things some conventions do to make for a wonderful event. Let's discuss!
But first, be aware that there are conventions out there trying to make these events ultra-profitable and big business, even if they are taking some of their profit by guest vendors and artists. These events usually pack in a large amount of big-name celebrities, charge LOTS of money to get in, charge MORE money to see the celebrities, and even the guest creators and local vendors have to spend big money to host a table, since you know it's aiming to be a big event. Not saying every big-name event is like this, but I think several fall into this banner. They are so big that you lose some of that cultural feel. Well, and that is partly due to trying to fire a shotgun blast at so many genres its hard to create an individual identity.
I'll have to admit that I haven't signed up for many of these big cons, due to their huge table expense…regardless of how many visitors they expect to attend. However, I know a lot of authors and artists who have gone, so I've been able to learn about their experiences. Some of those creators have had record sales, but other times these big events managed to not pan out, leaving vendors hundreds of dollars in the hole, sometimes with unreturnable plane and hotel reservations.
Enough about the bad, let's talk about the good.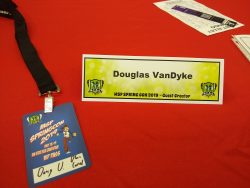 Give me a small convention with a close-knit feel and a loyal crowd that flocks to its culture. Take Marscon for example. Mostly sci-fi, but they embrace steampunk and fantasy. The key about that, is I never realized how valuable the after-hours room parties on the 11th floor were for con-goers. When the convention closes its main floors and attractions, you'd assume the day is over. At Marscon, that's when the night-life and socializing truly begin! An author friend of mine made a lot of acquaintances just partying people up in the after-hours themed rooms. (Anime, karaoke, saloons, cosplay, Trekkies, The Dude, etc.) Those events make you WANT to stay at that hotel and brings a more social aspect to bring con-goers together.
ChapelCon, (R.I.P. apparently), also made a big impact on me as a vendor. They had lots of volunteers ready to land a hand for the creators. They regularly checked out if I needed someone to cover my spot if I needed a break, (because I was selling alone there). They had a food arrangement in which you could call and order to your table. The celebrities were approachable. This con also had an evening party: a street blocked off in the town! Sam Jones, (Flash Gordon), took part in trivia questions at the local bar, and sat at our table for awhile. Again, this was a low-table-cost con that catered to people and creators having fun!
MSP SpringCon, (from MCBA ComiCons), also pulled out a lot of good things that helped me see what a convention SHOULD be. First of all, they make it really easy to bring your kids and entertain them. Kids under 10 are free with an adult admission, and even adults don't pay much to get in. They offer an admission discount with a food shelf donation. They hold a charity auction. There are big-name guests, but these are all comic book artists and creators, not really anyone from Hollywood. Very down to Earth. Cosplay contest ensures people come dressed in memorable attire. Attending as a creator may be hard, only because space is limited and the tables are free for us! Our first sale is a profit. Every event their vendor spots are packed for the public. They offer the creators free lunches, a really nice grilled dinner, and a social event. A large core of volunteers helps drive the event. It's a great example of an event that aims to make everyone happy and doesn't try to gouge wallets.
I'd love for more conventions to work at maintaining a a smaller, community-based atmosphere. You can maximize everyone's fun and participation, if you aren't trying to maximize your profit line.