"Apprentice Storm Mage" is now available, and I've also had a recent interview on YouTube in which I read excerpts from my books!
-Apprentice Storm Mage-
Like a proud father, I once again get to pass the cigars around as I announce the new arrival. Apprentice Storm Mage is a new Young Adult fantasy set in my fantasy realm of Dhea Loral. (Adults should enjoy it too.)
It stars a character I first used in games over 30 years ago. Thomena is a 13-year-old mage apprentice who receives an assignment to assist the fire-fighting vigiles of Orlaun. It's a good coming-of-age story in which she'll try hard to impress some local heroes, better herself with practice and preparation, endure the hardship of loss, and find her true strength of character.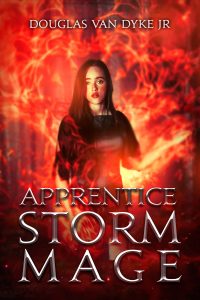 Here's the teaser for "Apprentice Storm Mage":
Fire and Ashes! The city is burning!

Young mage's apprentice Thomena is gifted in the elements of wind and water, but she yearns to learn the secrets of fire. When she discovers another mage is the one starting fires around her city of Orlaun, her resolve is tested by tragedy and roaring infernos. She needs to win the trust of the toughest heroes around, the fire-fighting vigiles, but they are hard to impress. Can she save Orlaun before the fires consume all Thomena cares about?

Pick up this coming-of-age adventure which opens up a new chapter in the fantasy realm of Dhea Loral.
The cover pic links to the book's page on this website. I have to thank Noah Elowyn for his work on the cover. An Audiobook is in the works, with a contract being negotiated now.
For my upcoming appearances to grab one, check the HOME page. There are a couple conventions coming up, and I am setting up more local bookstore appearances than currently is listed.
– Interview/Podcast on YouTube –
Fellow Minn author Laura Vosika, and Certified Cicerone Michael Agnew hosted me for their podcast which is now up on YouTube. During the broadcast, I read excerpts from "The Widow Brigade", "Inheritance of a Sword and a Path", and "Boxer Earns His Wings". (In that order). Michael pairs the excerpts with appropriate beers depending on the flavor of the text.
During the interview, I field questions about my world and my writing.
It runs and hour and was a lot of fun. I'm honored to have been invited!