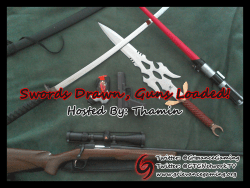 Swords Drawn, Guns Loaded returns after only having one week off.  I'll be broadcasting again 10pm-midnight, CST, at http://www.twitch.tv/grievance
Make sure to follow them for the announcement when I stream.
I'm returning once again to Witcher 3. Going to explore the countryside a bit, and see what kind of trouble I can get into. I noted some bandit camps that appear challenging, and I think I'll give them a shot while streaming.
Drop in and join me!