I've been hard at work arranging plans for my book signings for 2019. A couple of those dates have been confirmed and are approaching fast! If you are near the Twin Cities, Minnesota, and you love big conventions, I hope to see you at either of these events. Be sure to pick up an autographed book from me if you can. If not, at least pass on this notice to your social media. If there are people out there who don't know of these great conventions, they should be informed!
Con of the North, Feb 15-17, Crowne Plaza West, Plymouth, MN
I've been attending this convention many times over its history. I'm a gamer! CotN is the place to bring family and friends and have a grand time. At this event, I've enjoyed board games, computer rooms, dice games, Pathfinder, Dungeons & Dragons and miniatures on battle maps. This gaming convention keeps growing and it has moved a number of times to find accommodating space. This will be my first time as a vendor instead of a player or gamemaster.
Marscon, March 1-3, Hilton Minneapolis/St Paul Airport Mall of America, Bloomington, MN
https://marscon.org/2019/index.php
Focusing on Sci-Fi and Fantasy, one can find a lot of good geek material here! (And I am a geek.) To name some of what you may find here: anime movies, cosplay, panels, celebrities, childrens' activity rooms, Hogwarts fans, Trekkies, Steampunk costumers, one or more Tardis, movie and TV props. In addition, you will also find me returning for my second year in a row. I won't be the only indy-author in attendance. I've met some good writers here with unique visions that the big publishing houses won't risk a chance. Come decide for yourself.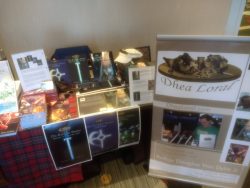 I have more appearances lining up and will post them when I know more. Please check out these conventions and consider stopping by for the fun they offer. I appreciate you taking the time to like my posts and pass on my blogs about upcoming events.