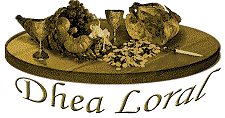 The U.S.A.'s season of Thanksgiving has arrived, even though this post comes a few days afterward. In fact, I'm writing this on my 47th birthday! It's a time to reflect on the accomplishments and blessings of the past year. Also, I have news of 2019. First of all, notice how the Dhea Loral logo includes a cornucopia? It very much resembles an old Thanksgiving table. This represents
...
Comments Off

on End of the year Thanks and planning for 2019
Time for another update! This summer I'm slowing down some other projects to focus on a previous, unreleased title. Yes, that means I've been delaying work on the next Pilgrims with Blades. So, what is this new title? Years ago, I was asked to create a short story for a compendium with other authors. It seemed focused on Steampunk, so that's what I wrote. I finished up and submitted
...
Comments Off

on Title in the works: "Boxer Earns His Wings"