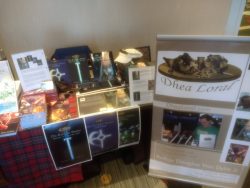 If you are fans looking forward to catching me in-person, I'm listing my 2019 schedule below. I'll be at these locations selling and autographing my works. Keep in mind, this may change during the year. A few of these conventions I've been to before, and plan to make regular appearances. (C) = Confirmed appearance (U) = Unsure if I will be there or not. This can be due to many
...
Comments Off

on 2019 Convention/Appearances Schedule
The Lowdown, a St Croix Valley area newspaper, featured me in a story yesterday. I had hoped to link the story, but they don't have it up on their website: http://www.presspubs.com/touch5/st-croix/ . Hopefully they will! It covered my latest book releases, and peeked into my experiences with Autism/Aspergers. There was actually a lot we discussed that never made the paper. I'm guessing
...
Comments Off

on Lowdown published a story about me today