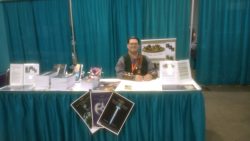 Since doing conventions, I've noticed a trend. Despite whatever sales I make, there's usually still several people who accept my business cards. A person tends to wonder how much attention browsing customers spend on you once the convention is over. I watch my Kindle sales every few days, tracking the editions bought or the number of pages read from Kindle Unlimited books. I did
...
Comments Off

on "Ripple" Effect of Convention Appearances
I'm making another convention appearance this September. Headed to NerdinOut in Rochester, MN. Dates are Sept 8&9, 11-6 both days. Address below: Graham Arena  Rochester, MN 1570 Fairgrounds Ave SE 55904 This will be my 3rd convention this year. Stop by for autographed copies of my fantasy books. This time, I'll be sharing a booth with Christopher Schmitz, so on the program it might
...
Comments Off

on Signing at NerdinOut! Rochester, MN Sept 8-9